F R A N K L L O Y D W R I G H T
1867 - 1959
Frank Lloyd Wright is certainly America's most famous architect and can lay claim to being America's most important artist of the 20th century. His career spanned over 60 years and spawned a series of masterpieces starting with his early 1900's Prairie style houses and ending in 1959 with the Solomon R. Guggenheim Museum. He is by all accounts a modern master.

Wright's early work, his Prairie period and first Golden Age, is arguably his most important and includes many of his finest masterpieces including Chicago's Robie House. His use of natural materials, open floor plans, low pitched roofs, and stained glass windows became a signature that defined his early career. These houses were innovative, modern, and a welcome break from the more classical architectural forms that dominated the suburbs of the midwest. At a young age, Wright established himself as a visionary architect and an inventor of a new American style of design.

His personal life and professional career were not without their ups and downs however. He was frequently broke, deserted his wife and children amid public scandal, married three times, and lived through the tragic murder of his lover, her two children, and several members of his staff. His personal life was so tumultuous that it almost ruined his career, and led to his temporary move to Europe where he produced the Wasmuth Portfolio in 1910. Consisting of 100 plates (72 on paper and 28 on tissue), this portfolio is a monogram of his work until 1910 and is an important architectural record as well as a beautifully executed artistic endeavor.

Toward the end of his Prairie School years, which ran primarily between 1900 and 1915, Wright was largely without work and growing increasing disinterested in Prairie design as he felt that he had exhausted its potential. His concentration became focused in Japan and the design of the Imperial Hotel as well as several other less famous structures. For nearly five years he spent the majority of his time there and became enthralled with Japan's people, its architecture, and with woodblock prints. He acquired thousands of these prints, and for all intents and purposes, supported himself by selling them for a substantial profit upon his return to America in 1922.

After completing the Imperial Hotel, Wright based his practice in Los Angeles and he designed several houses throughout the area, many of which utilized a textile block construction technique. These houses, one of the most famous being the Charles Ennis House located in southern California, are reminiscent of Aztec architecture. He also worked on an ambitious summer resort project in Lake Tahoe which was never realized. His designs for the resort included floating cabins which could be moved about the lake to change its visual impact. The 1920's also marked the establishment of Taliesin West located in the Arizona desert.

It was the 1930's however that marked the resurrection of Frank Lloyd Wright. It was during this decade, his Second Golden Age, that he designed what is regarded by many to be the most important house of the 20th century. In 1936, Fallingwater, located over a waterfall in Bear Run PA, re-established Wright at the forefront of American modern architecture and reignited his fame throughout the world. Following shortly thereafter, came the S. C. Johnson Wax Administration Building and the "Great Workroom". Revered for its innovative "lily pad" columns and the use of Pyrex tubing to allow for natural light, it has been referred to as a cathedral. The Johnson Wax facilities were later expanded with the construction of the Research Tower in 1946. This 14 story Wright designed building is a masterpiece in its own right and the perfect compliment to the Administration Building.

The mid 1930's also brought the design and construction of the Usonian house which continued into the 1940's. The Usonians were designed to be affordable and were therefore typically smaller in size, utilizing natural materials in an open floor plan. They were also innovative in their use of what is now called "Green Technology" such as passive solar heating, large overhangs which provided cooling shade, and radiant heating systems. Two of the more famous examples of these designs are the Jacobs and Pew Houses both of which are located in Madison Wisconsin.

Wright's Third Golden Age began in the 1950's. Despite being in his eighties, Wright continued to work at a highly productive pace and became more expressionistic in his designs. Several notable buildings were produced, including his final certifiable masterpiece, the spiraling museum commissioned by Solomon R. Guggenheim. The Guggenheim in New York City, which he worked on for 15 years, was completed shortly after Wright's death at the age of 91. Some argue that the building is the most important "piece" in the museum's extensive collection.

There are few artists than can claim to having created masterpieces over a span of 60 plus years. Even at a late age, Wright continued to push boundries and maintain his artistic integrity, while staying devoted to his love of nature and its integration with the built environment. His designs, fully realized with the completion of each building, began as a thought which was then refined by putting pencil to paper. Several of Wright's documented "thoughts" are offered below.

DELAVAN LAKE CLUBHOUSE
DELAVAN LAKE, WI

Perspective from below
Pencil on tissue
Circa 1902
Initialed FLW '54
Initialed HRH by Henry-Russell Hitchcock
21 7/8 x 11 3/8 inches
Conserved

Provenance:
Mr. Hume Illingworth
A Private Collection
KINDERSYMPHONIE
"THE GOBLIN"
OAK PARK, IL
(TWO SHEETS)

This design was one of a group of four playhouses. Each playhouse had its own name fitting for a children's play area. "The Goblin", "Two for a Penny", the "Iovanna", and the "Anne Baxter" were all very similar in design, their differences relegated to rooflines, front windows, and planting areas. The latter two playhouses were named for Wright's daughter and granddaughter respectively. These buildings were never executed as Wright did not receive the commission.

Exhibited at Architech Gallery
- Frank Lloyd Wright and the Three Golden Ages - September 9 through December 19, 2009.

Perspective
Pencil and colored pencil on tracing paper
Sheet #0 - Mod. #1
Undated - Circa 1926
Initialed in red square chop
12 x 17 1/2 inches

Floorplan
Pencil and colored pencil on tracing paper
Ground Plan - Modifications 2
Undated - Circa 1926
Initialed in red square chop
12 x 17 1/2 inches
WILLIAM NORMAN GUTHRIE HOUSE
SEWANEE, TN
Perspective
Pencil on tissue
Circa 1908
Initialed HRH by Henry Russell Hitchcock
13 3/4 X 34 inches
Conserved

Provenance:
Mr. Hume Illingworth
A Private Collection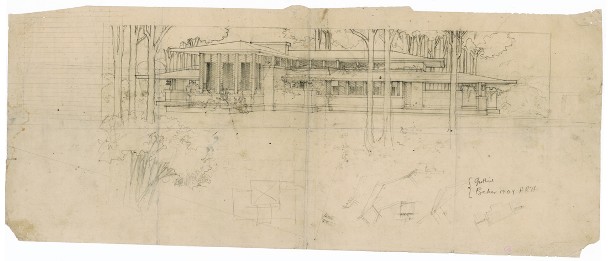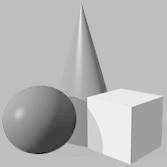 PRICE TOWER
BARTLESVILLE, OK

Elevation
Blueline Print
View from the South
Undated - Circa 1955
47 5/8 x 34 1/4 inches

Completed in 1956, Price Tower is one of only two highrises designed by Wright (the other being the Johnson Wax Research Tower) that was constructed. Standing 19 stories, the building rises 221 feet to the top of its spire. Originally designed as a combination office/ apartment building, it now houses a boutique hotel, restaurant and exhibition space. The building in on the National Register of Historic Places.
CHARLES PERRY HOUSE
GLENCOE, IL

Perspective
Pencil and colored pencil on tracing paper
Identified with the number "10", which references the building lot number
Undated - Circa 1913
Square chop with no initials
12 3/4 x 20 5/8 inches

Sherman Booth was Wright's attorney, and in 1915 commissioned Wright to design a home for himself, as well as five other dwellings, on a large parcel of land on Chicago's North Shore. The five ancillary houses were to be rental houses and a means to generate income for the Booth's. After serious financial reversals, the original design for the Booth House was scaled back significantly to reduce costs, and was built in accordance with the more modest plans. The five ancillary houses were also constructed, however instead of being utilized as rental units, they were sold to individual owners. One of these houses, the house on Lot 10, was purchased by Charles Perry for whom the house has become known. This is one of the very last examples of Wright's Prairie designs.

Exhibited at ArchiTech Gallery
- Frank Lloyd Wright and the Three Golden Ages - September 9 through December 19, 2009
- Two Centuries: An Architectural Evolution - January 8 through May 29, 2010

Provenance:
Mrs. Sherman M. Booth
Mr. John D. Randall
Sotheby's Online - The John D. Randall Collection of Frank Lloyd Wright and Louis Sullivan Artifacts - June 17th - 27th, 2002
A Private Collection
HOUSE FOR JOHN C. PEW
3640 LAKE MENDOTA DR.
SHOREWOOD HILLS, WI

Perspective
Pencil and colored pencil on tracing paper
Stone Option
Dated June (?) 1940
Initialed and date in red square chop
13 1/2 x 28 inches

The Pew House is considered by many to be one of Wright's finest Usonian designs. Perched atop a hill overlooking Lake Mendota, the Pew House has been called a "poor man's Fallingwater". This is due in part to the fact that it is built into a hillside and features cantilevered overhangs facing toward the lake below. However, when Wright was asked if this was the case, he quickly responded that "Fallingwater in actually a rich man's Pew House".

Exhibited at ArchiTech Gallery

THE GUGGENHEIM MUSEUM
NEW YORK, NY

Preliminary perspective
Blue line print
Dated: 1957?
22 1/2 x 36 inches
MR. AVERY COONLEY DWELLING
RIVERSIDE, IL

SOLD
Site Plan
Ink, water color and pencil on linen
Circa 1907
21 1/2 x 25 3/8 inches
Conserved

Provenance:
Mr. Hume Illingworth
A Private Collection

LAKE TAHOE SUMMER COLONY
EMERALD BAY, CA (THREE SHEETS)
Wright's designs for the Lake Tahoe Summer Colony, begun in 1922, were speculative. As records show, he attempted to interest the owner of the property - a woman by the name of Jessie Armstrong - with preliminary drawings for the resort. Impressed with Wright as a person, she remained reserved regarding his work. His ideas for Lake Tahoe remain unrealized, although the site has survived largely untouched and is now owned by the State of California.

Mobility was fundamental to Wright's concept, but not the mobility of the automobile and integrated roadways seen in other projects. Here he conceived of floating cabins whose changeable positions on the water would intensify the visual impact of the bay, and the inn, itself approached by a floating bridge, as a sort of elaborate jetty.

Provenance:
From a private collection
SOLD
Wigwam "B" Elevation
Pencil and colored pencil on tracing paper
Dated June 8, 1922
Initialed and dated in red square chop
23 3/8 x 17 inches


AVAILABLE
Fir Tree Perspective
Pencil and colored pencil on tracing paper
Dated June 8, 1922
Initialed and dated in red square chop
21 1/4 x 18 1/4 inches

AVAILABLE
Fir Tree Elevation and floorplan
Pencil and colored pencil on tracing paper
Dated June 8, 1922
Initialed and dated in red square chop
26 1/2 x 17 3/8 inches
S. C. JOHNSON WAX RESEARCH TOWER
RACINE, WI

SOLD
29 cyanotype working drawings on heavy paper
Elevations, floor plans, sections, site plan
Sheets: 1-5, 9-30,32, Field #1 Plot Plan
Dated 1946

Sizes 36"Hx 46"W, 36 1/2"H x 47 1/2"H, 36"H x 48"H and 36"H x 54 1/2"W
Round tag used by the City of Racine to identify the roll. It is inscribed with #239 1525 Howe St. S.C. Johnson

The Johnson Wax buildings are on the National Register of Historic Places, and were each (the Administration Building and the Research Tower) chosen by the American Institute of Architects as two of seventeen buildings by Wright to be retained as examples of his contribution to American culture. In addition, the Administration Building and Research Tower were both designated National Historic Landmarks in 1976. In 2008, the U.S. National Park Service submitted the Johnson Wax Headquarters and the Research Tower, along with nine other Frank Lloyd Wright properties, to a tentative list for World Heritage Status.

Exhibited at ArchiTech Gallery - Frank Lloyd Wright and the Three Golden Ages - September 9 through December 19, 2009

Provenance:
City of Racine, WI
A Private Collection
Relics 'n Books
Rago Arts

IMAGE
ANDREW ARMSTRONG HOUSE
OGDEN DUNES, IN

SOLD
Perspective from below
Pencil, colored pencil, and crayon on tracing paper
Date: June, 1935
Initialed and dated in red square chop
9 x 23 1/2 inches

Exhibited at ArchiTech Gallery
- Architectural Drawing: From Wright to Goldberg - September 9 through December 31, 2011

Provenance:
Mrs. Andrew Armstrong
A Private Collection

IMAGES
GRADY GAMMAGE AUDITORIUM
TEMPE, AZ

SOLD
Elevation
Pencil and colored pencil on tracing paper
Initialed and dated in red square chop
14 1/4 x 35 inches

Grady Gammage Memorial Auditorium is based on Wright's 1957-58 design for the Baghdad Opera House. Plans for the Opera House were shelved when Iraq destabilized politically, but elements of the design were revived for this building, Arizona State University's new auditorium.

Exhibited at ArchiTech Gallery
- Frank Lloyd Wright and the Three Golden Ages - September 9 through December 19, 2009
- Architectural Drawing: From Wright to Goldberg - September 9 through December 31, 2011

IMAGE
CHURCH FOR MILWAUKEE HELLENIC COMMUNITY
WAUWATOSA, WI

SOLD
Elevation and floor plan
Pencil and colored pencil on tracing paper
Dated April 20, 1956
Initialed and dated in red square chop
24 1/2 x 30 1/4 inches

Wright's circular design uses two important elements from Greek Orthodox churches, the dome and the Greek cross. The shallow concrete dome (106 feet in diameter) is superimposed on a floor plan in the shape of a Greek cross. The church Wright designed for the Annunciation Greek Orthodox Congregation was among the architect's last major commissions. In 1956 Wright showed the original drawings for the new suburban church to the Milwaukee congregation, one of the ten oldest in the country. He died in 1959 before the ground breaking and the dedication of the church in 1961.

Exhibited at ArchiTech Gallery
- Frank Lloyd Wright and the Three Golden Ages - September 9 through December 19, 2009
- Two Centuries: An Architectural Evolution - January 8 through May 29, 2010
- Architectural Drawing: From Wright to Goldberg - September 9 through December 31, 2011